Studying efficiently. Practical advice
The article was last modified 27 May 2017.
I would like to share my personal experience about techniques that help to learn efficiently.
In physiology there are concepts of positive and negative reinforcement. I will explain them with an example. At the circus the animal is taught a trick. If it performs the trick correctly, it immediately gets a piece of something tasty. This is positive reinforcement. If the animal does not perform a trick or performs it incorrectly, it gets a weak blow by the whip. This is negative reinforcement.
Everyone knows what "reward" and "punishment" mean. What is their difference from a positive and negative reinforcement? The reinforcement is made immediately after a correct or incorrect action. Punishment or reward may follow after some (perhaps even significant) time after the action. Psychologists and physiologists have proven that for learning positive or negative reinforcement is much more effective than reward or punishment that follow some time after the action. More about this read in a wonderful book by Karen Pryor "Don't Shoot the Dog!" A person, wanting to learn, does not need to be reinforced the way animal is. The realization that he or she acts (or thinks and reasons, assumes) correctly (or incorrectly) will be sufficient reinforcement. For example, you solve a problem and make a mistake. Will be much more useful if someone will correct you immediately after an error than if you incorrectly solve the problem, and the error is found during verification by the teacher a couple of days later.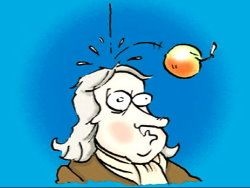 Thinking is useful and necessary. When we think, the brain intensively processes and assimilates information. Newton discovered the law of gravity not because the apple fell on his head, but because he thought a lot on this topic.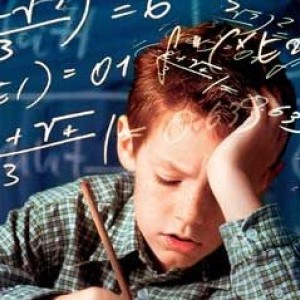 However, thinking only is not the best way of learning. Imagine three students. One was given a very difficult task. He suffered a lot before he solved it(or maybe was not able to solve). If the student solved the problem, it's likely he'll remember how to solve such problems. If he was not able to solve it, you should not assume that it is a waste of time and effort. Perhaps a solution will dawm on him in the future, like it happened with Newton. However, the student could spend too much time trying to solve the problem in ways that are incorrect. Long unsuccessful attempts to solve a problem can greatly reduce the motivation of the student.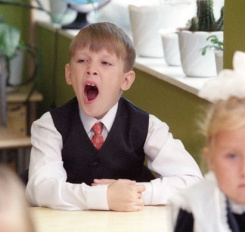 Another student was given the task, and simultaneously the correct solution was given to him. However, knowing the solution greatly reduced motivation of the student to delve into the task. As a result, the student may not learn how to solve the problem.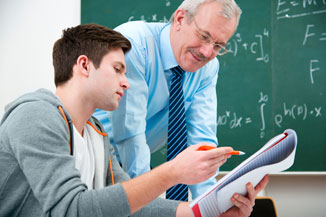 The third was given the task, he began to work, but was not able to solve it. The student asked for a hint, immediately received it, continued his work, stuck again and got a clue, and it happened several times, until he reached the correct answer. This method seems the best for me. The student did not suffer, but was not bored. For the time that the first student solved a problem, the third solved several oned and developed a good skill.
But what if there is no one to give you a hint? In textbooks and on the Internet there are many detailed examples of solving problems. You can work with them in this way: open the example so that only to make visible only the formulation of the problem. Begin to solve. Open the example so that you can see only the first step of solving the problem and compare your solution with the example. Carry on, then open the next step and so on. By the way, examples often help to understand things that are unclear to you after reading the textbook.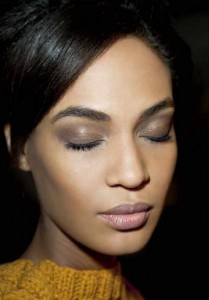 It is convenient to reinforce youself when you have a text you are studying before you. Close your eyes and try to mentally reproduce the information that you need to know. Some "helping" words described below can help you do this. If you use them, you may mot close eyes at first.You will know immediately what you do not remember, what you remember incorrectly, and will be able to fix it.
Reading a textbook or watching an educational video it is useful to stop sometimes and try to predict the following content. It should be noted that it will be useful in case you have enough information to generate a guess.
What the above three tips have in common? The use of reinforcement. You make an assumption, and immediately know whether it is true or not. You can call this method guess - compare. Because it is very effective, I advise to use it widely. It should be noted that sometimes, or even often your guess will not coincide exactly with the reference material, not because it's wrong, but because, for example, a task can have multiple solutions or the solution can be differently formulated.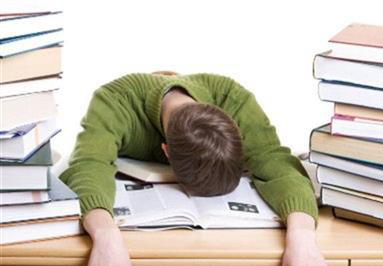 I had long ago discovered that when you study intensively you finally arrive at a stage when new information doesn`t stick in your head. And other information that does not require mental strain in its perception, does not require memorization, and is interesting, is still perceived without rejection. If you have come to the above-described condition, do not force yourself, try to analyze the information that has already been perceived, or take a break. For new knowledge to be digested time must pass, definite processes in the brain must take place, these processes are not felt by us, they also run, when we sleep. The conclusion - breaks from studies are necessary.
Two - three foreign words are memorized easily, to learn ten words a day effort must be applied. The conclusion from this: study regulary. If you studied today, learned something, your brain is working in background, processing and digesting new information to make a long-term knowledge. But if you didn`t study it`s not working.
To avoid processing tons of waste rock in the hope of finding a precious nugget, its desirable before reading scientific or technical book or article to have an idea of what useful information we can hope to extract from it. Maybe the text should be read only selectively, and maybe its not worth reading at all. Good advice I have read on the Internet. Before reading the actual book to read: introduction, table of contents (chapter headings), summary of each chapter, if any, bold text, captions. To read first and last paragraphs of the article. Read the first sentences of each paragraph. I have not yet read entire books this way, as for articles, I find it very useful.
Questions and "helping" words and phrases
Textbooks usually offer questions and tasks after presenting information. However, there are lot of books whithout questions and tasks. So it's good to have a set of questions useful for studying material on a variety of topics. It is useful to have a way of generating such questions.
"Helping" words and phrases
Let me offer you a set of words and phrases that help me to generate questions useful for deeper understending and better remembering of the material. I call them "helping words". "Helping" words are useful not only for this. They presume a certain kind of mental operation, the direction of analysis of the material. They can help to find analogies and come up with metaphors to help you remember the material. They make recalling the information easier. Here are the words:
(important) objects, (their important) actions (processes), relations, properties
where, when, how, why
The words of the two lines above I use most often. They help me to mentally reproduce the content material, to make a preliminary analysis, which facilitates the subsequent analysis. I usially start with objects, in objects most often their actions are of interest. I do not always reach the relations and properties, as well as words from the second line.
if, then (and, or), else (tree of conditions)
Information is often presented in the form of assertions, whose truth depends on some conditions (these assertions usially contain the word "if", for example: "if the temperature is below zero, water freezes"). Often the truth of such assertions depends on the truth of the other (for example: "If the temperature is below zero, water freezes and expands. And if not, then if the pressure is equal to atmospheric, then: if the temperature is below 100 degrees, the water becomes liquid, and if not ( temperature above 100 degrees), the water boils"). Such dependencies can be represented in a "tree", sometimes very "branched". It is useful to mentally go through the branches of the "tree".
tree of categories
More on that below, in the "Ouestions" section.
reason (premise) / fact (judgment) / consequence (conclusion) (causal or logical chain, bush or loop)
Why the bush? It has many branches and roots, which, moreover, may themselves branch. Accordingly, the fact can have a lot of consequences, it can be true due to several reasons. As for the "tree of conditions", the term "tree-like structure" would be relevant here, which is more accurate, but not as beautiful. Recalling some fact from the material we can think about the consequences of this fact and, perhaps, of the consequences of those consequences ("to go up"). Or "go down" - to reflect on the reasons why this fact is true. It often happens that the consequence affects the cause. Then the chain becomes a feedback loop. Causal structures are not easy to distinguish from logical structures, or structures of argument of the author of the material (premise / judgment / conclusion). To identify such structures is also very useful.
spatial scheme
Often, for better understanding of the material you will need to build a mental scheme of the mutual arrangement in space of the objects you study, for example, parts of some mechanism.
before / during / later (time chain or line)
Consider how the events you study are positioned in time in relation to each other, which had occurred earlier, later or at the same time. Maybe you will be interested to know only the sequence of events (time chain). In other cases, you will be important to understand how much time these events took, how they overlap in time with each other. To do this, imagine (or draw) a timeline and events you study on it. There is a closely related term dynamics. In some situations it seems to me more appropriate then the above "helping" words.
similarity / difference
Analysis on the similarity - difference can reduce the amount of information that you need to remember. For example, if you study the design of a jet plane, you can save effort if you already know the design of the propeller-driven plane
advantage / disadvantage (better / worse)
Here is a group of "system" "helping" words:
super-system / subsystem (elements)
connections
function
energy
managrment
We live in a world of systems (for example, the Earth is part of the Solar system), constantly have to deal with them (e.g., with different machines), are part of them (for example, part of the state), are themselves systems (of organs, cells). Systems consist of elements, which in turn can also be systems. Systems have properties not possessed by their elements individually (for example, a car can move, and its separate parts can't). To understand the system, it is important to know, how connected are its elements, how they interact. In many systems we can define their functions, (for example, the main function of the plane is flying). Energy passes through the system, is consumed by it and accumulates in it (e.g. energy of the fuel in the tank drives the car, charges the battery and makes lights shine). You can determine the ways you can most effectively manage the behavior of the system. For example, the vehicle is controlled with steering wheel, gas and brake pedals and a gear lever. More about the systems read in the book by O'Connor and McDermott "The Art of systems thinking". the
magnifier / drone
To see better the small details, we can use a magnifying glass. Large objects are better observed from a distance. We can use a drone for this. Accordingly, we can consider the interesting for us part of the material (for example, an object or event) in small detail, and we can try to see the "big picture", to understand interesting patterns, to make some conclusions.
(interesting to you) correlations / (and their) causes
assertions / negations (yes / no)
Sometimes it may be useful to mentally group assertions contained in the material, and separately group the negations. For example, if you study the methods of treatment of some disease, you can group what should be done (staying in bed, taking some medicine), and separately, actions that should be avoided (eating spicy and salty food, drinking alcohol). It is desirable after that to look for connections in the resulting groups and between them.

what will happen if
Suppose you learn from the book about some new and important facts, patterns, properties and relationships of objects, etc. You can try to change them mentally and to think what would be the effect of such a change. The easiest thing is to think what would happen if these facts, properties, etc. would not exist. (What if the wolves didn't eat rabbits?). This can help you to see new aspects of the problem, to lead you to useful ideas. In the book of Mark Meyerovich and Larisa Schragina "Technology of creative thinking" there is a set of techniques of such mental changes. Here it is:

Vice Versa (change any quality or property of an object (phenomenon, assertion) to the opposite one) (What if rabbits ate wolves?)
Split - merge (And if a pack of wolves could "merge" into one huge wolf?)
Acceleration - deceleration of action (fact) (what if the wolf was slow as a snail?)
Reduction - Magnification (what if the wolf was as little as a cat?)
Universalization - specialization (what if the wolves ate everything: hares, little girls, grass, berries, mushrooms, pies and candy?)
Continuity - quantization (what water in river flowed not constantly, but in jerks?)
Dynamic - static (And if trees could walk?)
Change properties (And if the wolves were kind and non-aggressive?)
Withdrawing - introducing (what if the wolves had a removable jaw or teeth?)
If anyone finds these techniques confusing, I refer you to the book, they are explained in detail there. I rarely use them, but I think that they are useful to have at your disposal.
Groups of "helping" words and phrases
"Helping" words and phrases can be combined into groups. What will this give us? Helping word prompts us to analyse a certain parameter of the studied material, for example, time analysis (what happens in time with the studied object (a temporary chain or line),), spatial analysis (how are the studied objects in space (spatial schema)). For a better understanding of the material it can be very useful to define not one "parameter" of the analysis, but two or even more. Here an analogy is appropriate with the analysis of two-or more-dimensional graph, which shows us how the value of the parameter we are interested in depends on the values of other parameters. For example, we may combine "temporary chain or line" and "spatial schema" in one group. This group can hint us to review, how "spatial schema" changes in time. For example, if we study the internal combustion engine, we can try to mentally reproduce, how the movement of the piston correlates in time with the opening and closing of the valves, fuel injection, etc. If we add to our group the "tree of conditions", perhaps it would prompt us to analyse of how the engine will operate (in space and in time) depending on whether or not some button is pressed and (or) the position of the lever.
The helping words from this article can be combined into many useful groups. Take, for example
objects,actions, relations, properties
where, when, how, why
We can, for example, just go through the actions of the object ("object + action"). And we may additionally analyze the reasons of its actions ("object + action + why") the way it acts ("object + action + how"), time, or place of the action (+ when or where). Then we can build a temporary sequence of actions, to distribute the actions on the timeline or to build a spatial map of actions. The relationship between objects and object properties can be analyzed similarly, for example: "object + relationship + why", "object + property + why". If the relations and properties depend on the position in time or space, respectively add (+ when or where). Perhaps, with this analysis we will see some interesting patterns. I'll give you another examples:
"tree of conditions" + "a causal or logical chain"
With these "helping" phrases, you can try to make a "logical" diagram of the material according to the pattern: "if A, then B, from B follows C".
Analysing the "similarity / difference" it can be very appropriate to set several parameters of the analysis and consecutively make a comparison by each of them. For the parameters you can use "helping" words (e.g. "properties" + "spatial schema" + "dynamics" + "function", etc.), or you can try to find more suitable for specific case parameters. For example, if you compare apples, it makes sense to set parameters: organoleptic properties, winter hardiness, storability of apples, ripening time, size of trees, etc. I will explain the term. "Organoleptic properties" means the aggregate impact on our senses. Organoleptic properties are the appearance, sounds, smell, taste, etc. It is useful sometimes to analyse these properties. You can combine this comparison with evaluation ("better/worse"). In a comparative evaluation ("better/worse") you can likewise set several parameters. Mental change ("what if") can be combined with spatial and (or) temporary, systems analysis, and evaluation ("better/worse").
"tree of conditions" + "better/worse"
I will continue the example with apples. You can make a "tree of conditions", depending on combination of which (region, availability of irrigation, groundwater level, etc.) one variety of apples is preferable to the other.
Questions
I offer a few questions that I think are useful for studying material on a variety of topics.
It is useful to try to formulate questions the answers to which you wish to obtain before reading the text. When reading you will already be ready to search for these answers. For example, you have to take the exam on the subject. It is advisable to read the questions that will be on the exam before you start studying the subject. Let us formulate the relevant question:
What I would like to learn from this?
When you see in text information that is important, you can ask yourself the question:
To which category (categories) it would be most proper (useful) to include this (important information)?
Why do it? I think that classifying information to a category (or multiple categories) will help to remember it better, though, to what extent I can not say. Category here can be likened, for example, a group of cards in a library catalog that stores information about books or articles some topic. You can quickly browse it and find the right book. I suggested above to "have a walk" through a "tree of conditions", or "bush" of causes and effects. Similarly you can walk through a "tree of categories" - to reflect, into which more general category the category chosen by you can be included, what other categories can be placed on the same hierarchy level. It is desirable to find such a "tree of categories" that will help you recall information when you need it. Having dealt with categories, it is desirable to try to answer the following two questions:
What you know about (important by these categories or categories close to them)?
Try to remember the main facts or, if you are unable to, something. Here`s an example. Now I am learning commands of Linux operative system. I find it useful to include a command into two categories:
1. By it`s action (for example, Linux command, shutting down the computer)
2. By it`s first letter
Next, I try to remember Linux commands with the same or similar action and starting with the same letter and generally similar in spelling. Similary I work with foreign words.
The category should not be too big, general. It would seem proper to include a command into category "Linux operative system". But if start to remember everything I know about it, it will take a very long time.
Then try to answer the second question:

How this (new knowledge) is (or can be) connected to facts that you know already (by those categories and not only them)?
What`s the value of this group of questions? New information is memorized better if it forms connections with information already stored in memory. This was proved by psychologists. It is worth to look for important, interesting for you connections. But since here we are looking for a connection to better remember the material, I used the vague wording "is linked (can be linked)". If it is difficult to find an important connection, less important will do. In search of connections "helping" words can be used.

Let us continue with the previous example. The command may be similar or different to others, (similarity / difference). It can be better or worse than other commands in some respect (advantage / disadvantage). It can be performed before or after other commands (past/ present / future), be performed for some reason, cause some consequences (cause / effect). It may be part of a group of commands, it may be a structure of some parts itself (supersystem / subsystem). It may be connected to other commands (connection), it has some function.

In which cases this group of three questions is useful? When it is possible to determine the "compact" category, with a small amount of information in your memory relating to it, and find memorable connections. However, I not always succeed in this.

Another way to connect new knowledge with one that you already have is to find suitable analogy, image or metaphor. The folowing question will help to do it:
What does it remind me of?
Use it if you are unable to find a suitable category. To help you find a suitable analogy (by setting parameter by which to look for it) "helping" words can be used, for example:

Organoleptic properties
Spatial schema
Function
Dynamics
and other

After you have found an analogy, you can look for connections between the analogy and the thing to which you did look it for, as I described just above.

When a text contains a lot of important facts, newly perceived information tends to push from the memory facts perceived earlier. For this reason also, it is desirable to handle it while you keep it in short-term memory, and it is not "jammed" with the next piece of information. New information may have an interesting connection with the previous one. Perhaps we should identify these relationships before moving on. Let us formulate the relevant question:

How this (important) is (or can be) connected to important that was before (earlier)?
However, you first need to remember what happened before that. And here again the "helping" words can be useful.

It is useful to look for connections not only between important facts. Suppose you read a scientific text with a lot of formulas and do not understand it. Try the following: Mentally select a piece of content that you understand. It is impossible that you understand absolutely nothing. You understand the words and phrases , dont you? This fragment may be very small. For example, let it be not a formula, but part of it, or even variable. Mentally select another piece, which you understand. And try to find a connection between them. Then look for the link in another pair of fragments. And so "play" with the text. Which parts to choose, decide yourself. Let's formulate this method in the form of a question:

How this is connected to this?
Although it is very similar to the previous one, I decided to make it a separate question. It is useful not only in cases when you do not understand something. It is useful to look for connections between important concepts, claims, arguments, etc.

When reading and reviewing the material you certainly will make some conclusions and assumptions. They can be right and can be wrong. So a pertinent question:

Where (how) my conclusions (assumptions) can be checked (confirmed or refuted)?
Perhaps the answer to this question can be found in the text you are studying. Another way to check, known to you from math class - "on the contrary" - to imagine that your conclusion is wrong, and think, what will be the consequences of this. Let us formulate the relevant question:
If my conclusions (assumptions) are wrong, what follows from this?
I would like to note that your own conclusions (if you are sure they are true) can be worked on the same way as the the material being studied - looking for interesting to you connection between the conclusion and other information available to you: important facts that you met previously while reading, a fragment you understand in a text you do not, or look for connection between conclusions.

Where this can be used?
I think any comment here is superfluous.

And a question similar to the previous:

In which sircumstances this can be used?
For example, when answering at the lesson or solving some problem. The question is useful because after thinking over it, it is possible to look for connections between the new information and the circumstances, in particular the other knowledge that will be needed in these circumstances. When these circumstances occur, the new information will be easier to retrieve from memory. The circumstances in which knowledge is acquired and tested, and the circumstances in which they really are used are often radically different. Imagine, for example, a pilot taking an oral exam, and the pilot at the controls of the plane, who in suddenly changed situation must quickly make the right decision. The pilot can successfully pass the exam and make a fatal mistake in real flight. Therefore, pilots are trained on simulators, which create the conditions most similar to conditions of a real flight. If you can not test your knowledge "in reality", it is useful to at least mentally simulate the actual situation of their use. I recommend to ask yourself the following question:

What mistakes can I make here?
The analysis of your possible mistakes can help avoid them in the future.

What's next?
About this question I wrote above. It can be asked while re-reading, or before reading the fragments containing important information.

I find it useful when reading texts rich with information to stop from time to time and ask yourself:

What is important here?
I often use the "helping words" to answer this question.

How this (big quantity of important information) can be (better) structured, to remember it better?
Trying to answer other questions that are offered here you will be structuring information, but maybe you will want to do it in a more convenient for you way. You can specify one or several "parameters" of structuring (by what you will be structuring the material. For example, strukturing the studied events by time: events that happened before Christ, and events that after. And again, helping words can be of use to us here. It is useful not only to do a mental structuring, but to keep its results in the form of a summary or scheme. I`ll give analogy with the computer. If data in it is well structured, it is easy to find the needed file. If songs are in a separate folder and are well structured, if the photos are in a different folder and are also sorted by subfolders as convenient for you, then search is much easier than when all this is thrown into the same folder "My documents". In memory also it is easier to find information, if it is well structured.

For better memorization, it is useful to conduct another operation, which I mentioned above. Let us express it in the form of a question:

How this (important information) can be summarized (if not in a nutshell, then in a few sentences)?
It is very useful to summarize in particular the main provisions of the text.

The questions presented here (and "helping" words) will help you better remember the information. However, I'm not certain that even after working on them, you remember everything you need. Some things should just be memorized (after "treating" them with questions). Here is the relevant question:

However, before that it is desirable to try to make the information easier to remember. Instead of memorizing multitude of facts and details, it is much simpler, easier and wiser to find a feature, rule, algorithm, principle that connects them, and remember it istead. It is useful to find a suitable analogy, image or metaphor, so that these facts and details become easy to get. By the way, images are remembered very well. The techniquies of professional mnemonists are based on this. As an example of making information easy to remember, here is an anecdote about Einstein. A friend told him his phone number and added that it was hard to remember: 24-361. "Hard to remember?" - Einstein was surprized. "Two dozens and 19 by the power of 2"
And, of course, you are free to think up useful questions yourself without any "helping" words. They'll probably come to your mind during reading. The list of questions and actions that are useful when you don't understand the material, is below, in the section "What to do if you read the text and do not understand it."
When what questions to use? Answering any of them requires time and effort. Depending on the material, a particular question can be very useful or not useful. I usually feel whether the question was useful to me or not. I currently can only only recommend to rely in the selection of questions on your experience and intuition. Here is a metaphor. Imagine a workmans set of tools. Some of them he uses very often, some rarely and very rarely. The workman can have favorite tools. Doing similiar work one workman prefers one tool, and other workman another. The workman knows when and how to use each tool. But to obtain this knowledge (experience), practice is required. Another metaphor which comes to mind is the search for something valuable in a pile of trash. Most of the items you discard as useless, but sometimes you find things that are really valuable.
If you can't answer the question, you can try to break it down into sub-questions and answer them. You can look for answers to similar, perhaps more simple questions. I think that if you failed to answer the question, it is likely that mental work you have done was not in vain, it will useful for remembering and understanding.
You can write up the questions you cant answer. You can review the list of questions from time to time to search the answers for those questions, and check the questions answers to which you already know.
You can use questions to make the process of repetition more interesting and useful. Take any question from above, or think it up with a "helping" words, or just take a "helping" word and repeat the material, considering it from the point of view of this question (helping word). When repeating another time take another question (the word).
Perfecting the image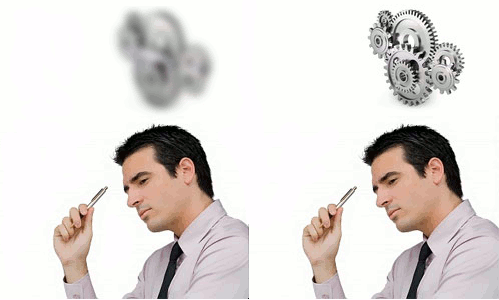 I`ll tell about another technique I use. Some sciences are hard to understand by persons of medium intelligence, like me: maths, physics, computer programming and so on. Often after reading a chapter in a textbook I understand the contents, but the image in my head about what I have read is "obscure". Then I, changing the image in my mind, try to make it clear. I call it "perfecting the image". We can change the image in our head as we wish, we are constrained only by the power of our imagination. Often text contains a lot of important information, and I can`t imagine it as one picture. So I work on image of one "piece" of information, then the next and so on, and afterwards try to get a clear "general picture". Why is it useful? If the image in your head is clear, its easier to mentally operate it. I am also sure that it will be remembered much better.
Sometimes, when I am working on a complex task or problem, a vague idea comes to me. Then I work its clarity, so that instead of a vague idea I had a clear "picture".
And I feel it is desirable that the image of the new knowledge was "beautiful" and pleasant to work with. Then it will be easier to remember. The arguments in favor of this assertion are written in my another article, which is not easy to understand.
About the benefits of re-reading
Sometimes, when you read a scientific or technical text, you understand very little. But when you read the second time you begin to understand. This means that during or after the first reading the processes occurred in the brain that have enabled to reach understanding after the second reading. So reading and analysing text (for example, using the questions listed above) may be useful, even if you do not fully understand it.
What to do if you read the text and do not understand it
To read the a text and understand it is unpleasant and not very useful. Rereading doesnt always help. Often it is impossible to understand the text because you cant imagine the complex processes that are described in it. Another possible reason for the misunderstanding is that you have the experience, different from life and professional experience of the author, and therefore you do not understand things that are obvious to him. Another cause of misunderstanding lies in the fact that words are often too blunt an instrument to accurately convey the author's idea. In addition, the author may not be able to use this tool well. Different people sometimes undersand the meaning of the same words differently. The result is often that the author puts into words one meaning (based on his experience and understanding of the meanings of words), and the reader "extracts" from the text a different meaning.
I think we should move on the road to understanding with "small steps". If the text can be interpreted in different ways, select one of the options as a working hypothesis. Consequently, it may appear that your assumption is completely or partially wrong. However, it will give you a base for further reading and analysis.
Try
imagine what is possible to imagine.
This will help you to understand that you can't imagine and what you imagine. For example, if you can't imagine the limit towards which the change in acceleration of the body converges, imagine the body, speed of the body, acceleration of the body , change of acceleration. If at some stage you get stuck,
you can work on the clarity of ideas that you can imagine.
Work on understanding the incomprehensible requires resources of the brain. You can release some amount of these resources. For this
write down what you already understand.
In making the recording you can use "helping" words. With compact records it is easier to find connections between them. Here is the relevant question, about which I wrote above:
How this is connected to this?
Try to imagine what you do not understand. Ask yourself:
How something you do not understand looks like? How it behaves(properties, relations, actions)?
You can also use the "helping" words here. I will mention one of them - "magnifier". Consider what you do not understand "under the magnifier". Reflection on this question can help you
understand and articulate exactly what you don't understand. You can also write it down.
If you do not understand the meaning of a word or phrase in the text, it is not bad to look for it in the dictionary. Try to put yourself in place of the author. Here's the question: the
Why the author wrote it like this, used these words?
Look for the connection between fragments of text you understand:
how is it connected with this?
Read more about this above.
Ask yourself:

Under what conditions this gets understandable? Are these conditions present? If not, why?
Many authors, being experts in their field, not posess the gift to write clearly. If the text is hard to understand, look for another on the same subject.
Error handling
When you use the "guess - compare" method, your assumption will sometimes not coincide with the material on which you check. Such a mismatch may not always indicate your mistake, as I wrote above. Sometimes it can be useful to handle it with a "helping" words, especially in cases when you are really wrong. I think the most appropriate word here is "why" (your guess is wrong) and "similarity / difference" between your answer and correct one. This will help you better remember the correct answer and avoid mistakes in the future.
Antropomorphic images
From the practice of mnemonists we know that to remember material better, you can associate it with an unusual, emotional image. This gave me an idea. Let me go to the side a little in my reasoning. We humans are social animals, adapted by evolution to interact with other people. For us to live a full life it is required that they taught us language, taught us a set of skills, including the ability to build relationships with others. We wonder at ability of penguins returning from the sea, to find in the colony, among many other penguins and their eggs their own eggs. Aliens arriving on Earth would be surprised at our ability to recognize faces, which, incidentally, is provided by a special structure in the brain. Actions coordinated with the actions of other people enable us to effectively survive. Therefore, a significant proportion of the interests of the people is focused on other people. The man was created by evolution to be interested in other people. Evidence of this is massive interest in TV series, the tabloid press. We often encounter people talking with enthusiasm. Of course sometimes they discuss serious topics, such as how to arrange the state. But I think more often they just gossip about other people. What does all this have to do with the topic of the article? Our thinking abilities are also hardwired to interact with other people. To imagine another person, his actions for many people easier and more interesting than imagining some abstract things. Most people have a capacity for empathy. These characteristics of human thinking can be used in studying. Here are two examples. There is a theory of inventive problem solving (TRIZ) created by G. S. Altshuller. It is a system of techniques to develop solutions of technical problems, creating inventions. It has a trick called "the method "small little men"" which uses the described above feature. You analyze the technical problem and imagine many little men in the light of this problem - what effects (forces, fields, etc.) they are exposed to, how they react to these impacts (e.g., where they are moving). You can imagine yourself one of these little men. There is a term - "anthropomorphic", that means having human form. The method of "little men" uses anthropomorphic images. But such images can be used for analysis when studying, for memorizing the material. Another example is the study of history. You can analyse certain events not only "from outside", but try to imagine yourself in the place of some historical figure to understand the motivations of his actions. This technique can be successfully applied when analyzing the actions of modern politicians, opinions of journalists.
If you find this article useful I would appreciate a link to it.
the russian version of this article
home page (in Russian)